This document is only valid 72 hours after printing. For the latest version please visit
SCOPE OF THIS CHAPTER
This chapter provides the context for all procedures.
It contains the overarching policy for the provision of services to children and families in Blackpool.
AMENDMENT
In July 2020, this chapter was revised and updated throughout to reflect the 'Our Blackpool Families Rock' way of working.
Contents
1. Introduction
This policy sets out the framework within which Children's Services work with children, young people and their families. It is underpinned by a range of legislation including, but not limited to:
Children Acts 1989 and 2004;
Children (Leaving Care) Act 2000;
Care Standards Act 2000;
United Nations Convention on the Rights of The Child;
Human Rights Act 1998;
Adoption and Children Act 2002;
Data Protection Act 2018;
Children and Families Act 2014;
Children and Social Work Act 2017.
The policy framework also has regard to and is consistent with a range of government guidance, particularly the principles set out in the statutory guidance Working Together to Safeguard Children.
It is largely directed towards the work that Children's Services undertakes with Children in Need and Children in Care; which is carried out in partnership with all sectors of the local authority and with other statutory, independent and voluntary sector services.
2. Our "Blackpool Families Rock" Values
In 2019, we worked together with children, families and carers, who had a variety of lived and professional experiences, to work co-productively and to co-create a new way of working with families. The Co-Production Group met regularly with our Principal Social Worker and undertook the following actions together:
We reflected on what 'Co-Production' is and what the process was to undertake this (Hart 1992) (SCIE 2015) (Rathbone 2018);
We shared our experiences, skills and values;
We researched a number of other Social Work models of practice from local authorities nationally; Leeds, Lincolnshire, Essex, Camden and Croydon;
We looked at specific scenarios of working with families, through a variety of lenses; family, young person and professional social workers;
We also examined in detail an Ofsted paper, Yvette Stanley (Feb 2019), in which she stated that '…whole systems approach to implementation that will give a model the best opportunity to improve practice'.
2.2 Social Pedagogy
Utilising Social Pedagogy we reflected on how families would like agencies to work with them to improve the outcomes for them and their children – our heart, head and hands.
The concept of Head, Heart and Hand is a central feature within Social Pedagogical thinking. Social Pedagogy (Charfe & Gardner 2019) 'is essentially concerned with well-being, learning and growth'. The Head, Heart and Hand are in a sense inseparable, and by using them synergistically and authentically within social work practices, social workers are better able to support the well-being, learning, growth or change for families children and young people. Social Pedagogy requires the social worker to engage in relationship centred practices with the people that they work with, which (Charfe and Gardner 2019) state 'enhances well-being, increases their resourcefulness and supports their inclusion into wider society.'
Our values, outlined in the diagram below, are underpinned by HEART: how we behave, HEAD: how we think and HAND: how we work.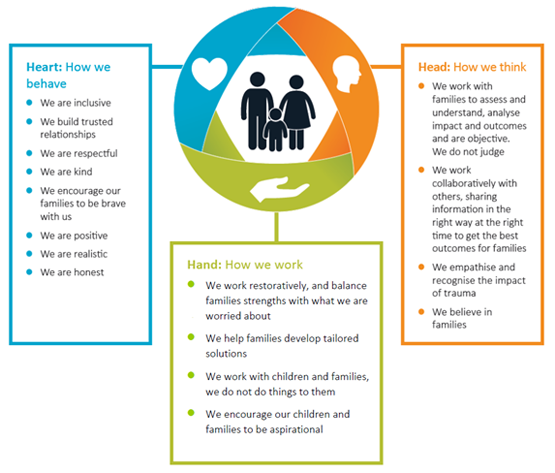 Hands: What we do…
Relationship Based practice: Creating trusting and honest relationships with families

, which provide opportunities for them to change. Support families to understand our concerns for their children. Be respectfully clear with families regarding the impact of concerns on their child's daily life and their outcomes if changes in their life don't happen. Work in partnership with families to develop a Plan for their family, which has their children as a central focus;

Restorative practice: To improve and repair relationships within families and communities

. The purpose is to build healthy families, communities, increase social capital, reduce crime and anti-social behaviour,

repairing harm

;

Systemic Solution Focused Practice: Work as a 'Systemic solution focused family' at 3 levels:

Support families to develop a wider eco support system, which enables them to make the changes they need to thrive and succeed;
Partnership staff across Blackpool work as a solution focused system, a 'jigsaw of support' which fits together and nurtures family led sustainable change;
Strategic leaders across Blackpool operate as a Strategic Solution Focused Family, create an environment, which enables their workforce to implement 'Blackpool Families Rock' Practice Guidance Principles, which supports families and communities to be resilient and achieve positive sustainable change.

Strengths Based Practice:

Emphasises

strengths within the family and local community network

. It is a way of viewing adults and children as resourceful and resilient in the face of their worries. Support family led Plans, which

focus on children's aspirations and outcomes

, whilst balancing this approach with a good understanding of the worries we share about the children's daily lived experience.
2.3 Restorative Practice
We are committed to ensuring our workforce undertake restorative practice with families. The Restorative Practice 'Social Discipline Window' describes four practice approaches; represented as different combinations of high or low challenge and high or low support. The Restorative Practice domain that we are committed to combines both high challenge and high support and is characterised by working with families, rather than doing to them, or, solely doing things for them. "Blackpool Families Rock" means we develop restorative relationships with families. Whilst being clear with families about what we are worried about, we also look for the strengths in the family and within their wider family and community eco system to support them, or, to be there to care for a child, in those cases when parents are unable to make the changes they need to meet their children's needs.
3. Key Outcomes
Blackpool Children's Plan sets out our committed to improve children's outcomes:
To be happy;
To be health;
To feel safe;
To do well in school;
To get a job;
Have a voice and be listened to.
4. Key Principles
We will always try to support children to live within their own families, wherever this is possible consistent with their safety and well-being.
Where a child cannot be cared for within their immediate family, we will make strenuous efforts to identify potential carers within the wider kinship network of the child who are able and willing to meet the needs and best interests of the child.
If continuing care within their family is not possible, we will make every effort to identify suitable alternative carers that reflect the child's ethnic, religious, cultural and linguistic background wherever possible and appropriate, whether through adoption or other forms of permanence. We will also seek to identify suitable local living arrangements to help provide educational and social continuity. We focus on ensuring children experience permanence, to develop attachment with their alternative carers as soon as is possible
We will ensure that children in our care are placed with approved carers, who can meet their needs and that, wherever possible, siblings are placed together. Younger children will be placed in a family setting unless there are significant assessed reasons why residential care or an alternative is a better option.
We will ensure that permanence plans are made for all our children within 4 months of coming into our care and action as quickly as possible to avoid them experiencing dealt in their Care Plans.
If a young person remains in our care, we will offer support when they leave our care until they are 25, including the option of remaining with their foster family (Staying Put), to give them a positive start to independent living. This support will include personal assistance with living independently and accessing and making the most of education and employment opportunities.
Family time arrangements with the child's family will be promoted and supported, unless this is contrary to the child's best interests. Arrangements will also remain under regular review.
We will consult with children, their parents and other significant adults about plans for their care, and these plans will be subject to independent review. Children and their families will be encouraged to take part in their reviews and can expect that their views will be listened to and will help shape their Plan.
Children, their parents and other significant adults will be consulted when drawing up plans about their care, and these plans will be subject to regular independent review. We will also ensure that children have access to advocacy services that will assist them in being heard, where this is appropriate.
We will continue to build on our efforts to consult families about the services we provide, utilising our Blackpool Families Rock Co-Production Group as a model of good practice, and wherever possible co-produce plans with families to ensure their children are safe and have improved outcomes. Using the Family Group Conference methodology we support wider family members to be involved in supporting their children and their families. See also: Families Together Meetings Procedure.
We will also involve our children via the JustUz group to help us improve our services, and we remain committed to our "War on Words" strategy that reminds us that the use of traditional ways of referencing our children (such being a 'Looked After Child') can be stigmatising to them in their everyday life. Where ever possible, we have reviewed our policy documents and recordings to use more appropriate language, and strive to be more aware in the way that we talk about and to our children.
5. Corporate Parenting
5.1 Corporate Parenting Responsibilities
The role that Local Authorities play in looking after the children in our care is one of the most important things we do. We therefore have a unique responsibility to our children whilst they are in our care and afterwards when they leave to become adults.
The term 'Corporate Parent' is broadly understood by Directors of Children's Services and Lead Members for Children, as well as those working directly in Children's Social Care services, in relation to how Local Authorities should approach their responsibilities for Our Children in our care as well as after they have left our care. A strong ethos of Corporate Parenting means that sense of vision and responsibility towards our children and care leavers is a priority for everyone. Corporate Parenting is an important part of the Ofsted inspection framework and the Corporate Parenting Principles are referenced in Ofsted's Inspecting Local Authority Children's Services.
The Corporate Parenting Principles are intended to facilitate as far as possible secure, nurturing, and positive experiences for our children, and enable the same positive outcomes for them that we would hope for our own children.
The experiences of our children and care leavers, particularly in regards to whether they feel cared for and listened to, will therefore be an important measure of how successfully we all embed these principles.
5.2 Corporate Parenting Principles
The Corporate Parenting Principles set out seven principles to guide local authorities when exercising their functions in relation to Children in Care, as follows:
To act in the best interests, and promote the physical and mental health and wellbeing, of those children and young people;
To encourage those children and young people to express their views, wishes and feelings;
To take into account the views, wishes and feelings of those children and young people;
To help those children and young people gain access to, and make the best use of, services provided by the local authority and its relevant partners;
To promote high aspirations, and seek to secure the best outcomes, for those children and young people;
For those children and young people to be safe, and for stability in their home lives, relationships and education or work; and
To prepare those children and young people for adulthood and independent living.
The Corporate Parenting Principles do not replace or change existing legal duties; rather they are intended to encourage local authorities to be ambitious and aspirational for their Children in Care and care leavers.
We are also in the process of developing a Corporate Grand-Parenting model that extends the concept of the Corporate Parent to our children well into early adulthood when our children also become young adults in their own right. The positive outcomes of the Children Act 2004 that we aspire to for our children can also help build on further aspirations for our children to be supported to also become effective parents so that they go on to meet the needs of their own children, effectively our Corporate grand-children, as they also grow up.
In addition, section 10 of the Children Act 2004 sets out the responsibility to make arrangements to promote co-operation between 'relevant partners' with a view to improving the well-being of children in their area. This should include arrangements in relation to Children in Care and care leavers. Section 10(5) of the 2004 Act places a duty on relevant partners to co-operate with the local authority in the making of these arrangements, therefore promoting and ensuring a joined-up approach to improving the well-being of children in their area.
See: DfE Applying Corporate Parenting Principles to Looked-after Children and Care Leavers – Statutory Guidance (Feb 2018).